MMA: Lockport native Amer Abdallah defends his WKA Cruiserweight championship.
BY JOHN D'ONOFRIO john.donofrio@lockportjournal.com
Ethan McCarthy didn't need to travel 3,401 miles to find a "pub," but that's exactly where the Englishman found himself on Friday night, weighing in, literally, on the opportunity of a lifetime.
McCarthy (23-4), accompanied by his experienced trainers Steve East and Steve Moffatt, weighed in at the Lockport Pub for tonight's World Kickboxing Association Cruiserweight championship bout against Lockport native Amer Abdallah (17-0), at the Kenan Arena.
"This is something I've done from a young age that I liked and just kept doing," said McCarthy, 23, who's making his third trip to the U.S. from his hometown of South Shields, near Newcastle. McCarthy is a member of the Kuei-Ling Kickboxing Club in South Shields and has been training in his sport since the age of 15.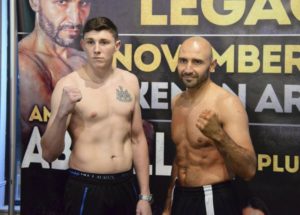 "I can't wait," McCarthy said. "He's a good kicker and moves well and looks strong, so I've got to box clever and fight 'our fight,' not the way he wants to."
McCarthy weighed in at 187.2 pounds and the WKA world champion Abdallah, 39, at 189.4 pounds.
Meanwhile, several other fighters in the Abdallah stable also weighed in Friday night. They included professional light heavyweight Joe Taylor and middleweight Erick Plumeri of Lockport and Buffalo's outstanding Ayanna Tremont.
Taylor — 1-0 as a kickboxer and 1-0 in MMA — weighed in at 188.8 pounds. He'll take on Rochester's Nathan McClain, who weighed in at 187.6, in a professional five-round kickboxing bout.
"I feel like I'm in the best shape of my life," Taylor said. "I dedicate this fight, like I always do, to my father, Johnnie Taylor, and to everyone who supports me."
"The Candy Man" Plumeri said he knows what to expect from his opponent, journeyman Whitney Wadell of Florida.
"He's more of a karate guy — everyone I fight usually is. I've got better hands than most people," he said, adding that he dedicated this fight to his entire family, especially his daughter, Zaria. Plumeri weighed in at 161.8 pounds.
Tremont, who's fighting out of Lockport native Corey Webster's Western New York MMA gym in Buffalo, weighed in at 170.2 pounds. The Kenmore West schoolteacher and Lace Up Promotions Women's Middleweight champion Tremont will defend her title against Syracuse's Tania Marchall.
Also attending the weigh-ins on Friday were the two combatants in another highly-anticipated rematch that pits "Baby" Joe Mesi's nephew, Tyler Mesi of Buffalo, against Lockport's Tyler Rodier. Rodier won by a close decision when the two battled at the Kenan last year.
Mesi, accompanied by his father, Tom Mesi, and grandfather, Jack Mesi, weighed in at 159.2 pounds. Rodier weighed in at 161.6 pounds.
Among the many sponsors of tonight's fight card are Mulvey Construction, All Metal Works, KJ Motorsports, MJ Flooring, Executive Landscaping, Jays Auto Sales, Niagara Gutter, Pizza Oven and Centimark Roofing.
McCarthy's main sponsors are North East Refurbishments Ltd., Gary Tuck Workshops, Hanson Wealth, Paul Davis Aerials and Carmeleon Concepts. Kuei-Ling Kickboxing Club is based at 40 Maxwell St., South Shields, UK.
Contact US&J Sports Editor John D'Onofrio at 439-9222 Ext. 6247.