Amer Abdallah earns 10-round unanimous-decision victory late Saturday over Englishman Nathan McCarthy at Lockport's raucous Kenan Arena
BY JOHN D'ONOFRIO john.donofrio@lockportjournal.com
This article first appeared in the Lockport Journal and can be found HERE.
LOCKPORT — Amer Abdallah handily defeated not one, but two formidable opponents Saturday night, while successfully defending his World Kickboxing Association Cruiserweight championship belt — Englishman Nathan McCarthy and Father Time.
The 39-year-old Abdallah humbled both in an emotional victory before another large and vocal crowd at Lockport's Kenan Center Arena, earning a 10-round unanimous decision victory over a man 16 years his junior to raise his professional record to an unblemished 18-0.
"I want to thank everyone who came out and thank God we were able to retain this title," Abdallah said after the fight, surrounded by his family and closest friends.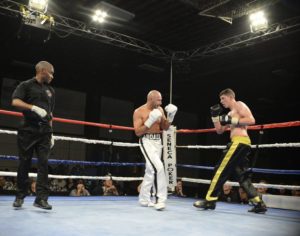 "It was an ugly fight. I wanted to come out and fight a young, strong guy, but as soon as he closed the gap he held on," Abdallah said. "I just wanted to make it a fight on the inside, but I think I did enough on the outside to out-point him. At the end if the day, I had him backpedaling the whole time and we're going to keep the title in Lockport. That's three English guys down. Next?"
Making his third trip to the United States, McCarthy, who was accompanied by his trainer Steve East and assistant coach Steve Moffatt, withstood relentless Abdallah assaults throughout, but couldn't hurt the Lockport native, falling to 23-5 as a professional. He'll return to his hometown of South Shields, near Newcastle, England, today.
A cautious first few rounds by both fighters saw Abdallah go to the body immediately and relentlessly, following those flurries up with solid hooks to the head that set the one-sided tone.
A wicked right hand by Abdallah found its mark about a minute into the third round as the champion continued to set the pace on the offensive. McCarthy went down in the fourth round, claiming a low blow, but after a brief respite, the fight continued and the Englishman finished with his best round of the fight so far.
Abdallah landed some of his best blows in the fifth round, including a solid left leg to the stomach and a right uppercut, but McCarthy held on and withstood a knockout, while answering with an occasional blow that didn't seem to phase Abdallah as the fight moved tediously through the later rounds.
The three judges' scorecards had it 96-94, 96-94, 96-94.
Abdallah trainer Dewey Cooper said the Englishman went to survival mode.
"You can't win a fight when you're just trying to survive and win. This is a world title fight. You have to come and try to take someone's title," said Cooper, a two-time world champion. "Respect to the opponent, but he was fighting a very defensive fight — as if he was here to survive, versus take Amer's title. He fought a valiant fight, but it wasn't to win. It was just for him not to get knocked out tonight."
Meanwhile, Lockport's Joe Taylor and Syracuse's Tania Marchall were among the other big winners in Saturday's international fight card.
Taylor improved to 2-0 as a professional light heavyweight kickboxer, knocking out Rochester's Cameron McClaney with a devastating right hand 2:30 into the second round of their scheduled three-round fight.
"I wouldn't be here if it wasn't for God, I wouldn't be here if it wasn't for my father and I wouldn't be here if it wasn't for Amer Abdallah," said Taylor, the son of the late Lockport boxing legend Johnnie Taylor. Taylor is trained by Lockport native Corey Webster at Webster's Western New York MMA Gym in Buffalo.
"I respect Cameron for taking the fight. He caught me with a couple of shots in the first round and Corey told me I lost the first round," Taylor said. "He told me to throw more 1-2s and throw that right hand. Sometimes I get a little hesitant."
Marchall defeated Buffalo's Ayanna Tramont, a long-time Lockport favorite, to capture the Lace-Up Promotions Women's Middleweight Championship. Team Andrello's aggressive, persistent Marchall earned a three-round majority decision. The scores were 38-38, 39-37, 39-37.
In one of most entertaining fights of the night, Team Andrello's electrifying Bryce Mills out-classed Luis Morales of Bridgeport, Ct. in a four-round, 145-pound bout. The judges' score cards were 40-36, 40-36, 40-36.
Another Lockport favorite, middleweight Erick "The Candyman" Plumeri won by forfeit for the second time in his last three city fights, when his opponent failed to show up.
In their highly-anticipated, three-round amateur rematch, Lockport's Tyler Rodier and Buffalo's Tyler Mesi battled to a draw.
In other fight night bouts:
• Buffalo's Derek Greene defeated Lindon Arcilla of Markham, Ontario, by unanimous decision, 29-28, 29-28, 29-28.
• Buffalo's Tony Leonard won by technical knockout over Alan Martinez of Weedsport, end of second round.
• Johnny Grisafi of of Port Colborne, Ontario, Canada defeated fellow middleweight Mark Murray of Auburn by unanimous decision, 29-26, 29-26, 29-26.
• Buffalo's Patchy Mix 145-pound unanimous decision win over Bryan Agoston of Port Colborne, Ontario, 29-27, 29-27, 29-27.
FIGHT NIGHT NOTES: The rotating referees were Bill Kiefer, Tom Jennings, Mike Walter and Vinnie Chapple … Lockport Community Television broadcast the fights with veteran announcers Jim Slowey and Jim Rhodes … Among those working security was one of Lockport's finest, Rick "Robo" Provenzano …  Among those attending the fights was National Hockey League Hall of Famer Dominick Hasek.